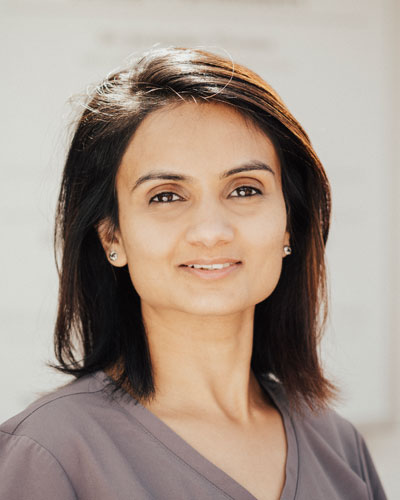 BDS, MFDS, RCS (Edin)
(GDC No: 212206)

Dr Henal Shah has been practicing dentistry since 2011. She is a graduate from the Barts and The London School of Medicine and Dentistry of The Queen Mary University in London.
Following graduation, Henal went onto complete her vocational training in Sheffiled and worked as a Senior House Officer in Oral and Maxillofacial Department at Queens Medical Centre in Nottingham.
She has also completed the Diploma of Membership of the Faculty of Dental Surgery (MFDS) of The Royal College of Surgeons of Edinburgh which is an internationally recognised dental qualification.
Through an ongoing commitment to continuing education, Henal ensures that the technological advancements being made in the field of dentistry are available to all her patients. In her advanced studies, she has completed extended courses in:
Invisalign Clear Aligners and Quick Straight Teeth (Short term Orthodontics)
CEREC System (the use of Computer Software and a Milling Machine which allows you to have your Crown fitted in one single dental visit)
Cosmetic and Aesthetic Restorative Dentistry
Henal has been with us at Styvechale Dental Care since 2015. " I feel very fortunate to be a part of Styvechale Dental Care," she says "and want to thank our patients for their continuing support of the practice and of our dental and oral health care services. Your health, comfort and satisfaction is of our primary concern and we welcome your questions and comments at all times."
In her spare time Henal enjoys yoga, reading, movies and travelling with her husband.